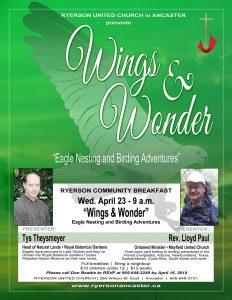 April 23, 2014
On April 23 to honour Earth Day, Ryerson was privileged to welcome two very knowledgeable speakers to our community breakfast, each with their own passion for our winged neighbours. Rev Lloyd Paul and Tys Theysmeyer addressed 50 persons in attendance on the awe and wonder of birds who share our environment.
Rev Paul describes his passion for birding:
"One May morning at Point Peele National Park, forty years ago my love affair with birds began. From back yard birding to birding adventures taken to the Florida Everglades, Texas, Arizona, Saskatchewan, Newfoundland, Victoria, Costa Rica, South Korea and St. Lucia I continue to blessed by a wonderful hobby and passion.
"Birding connects me with the wonder and beauty of God's created world; it encourages me to get out into the great outdoors; it brings me in contact with others who enjoy the birds and who are also interested in habitat restoration and other ways we can care for our planet, ensuring a bio-diversity for our children's children.
Tys Theysmeyer is Head of Natural Lands for the Royal Botanical Gardens a local sanctuary of over 1,100 hectares surrounded by urbanization. Tys has expertise in safeguarding and nurturing the return of the Eagle population to this territory. As large predators, Eagles need at least 100 hectares of undisturbed forest to nest, plus an adjacent 50 hectares of wetlands to allow them to fish.
Locally, almost extinct and after a 50-year hiatus due to DDT emaciating their populations, two eaglets hatched right here; the first to appear on the Canadian side of Lake Ontario. This year, the Eagles have nested in a tall pine tree in Hopkins Woods at the western end of Cootes Paradise. The nest site is protected under the Ontario Endangered Species Act. Tys challenged us to appreciate and think about how we support threatened wildlife.
Thank you to our presenters for sharing such passion and insight on these wonders to enjoy!